THE STUDIO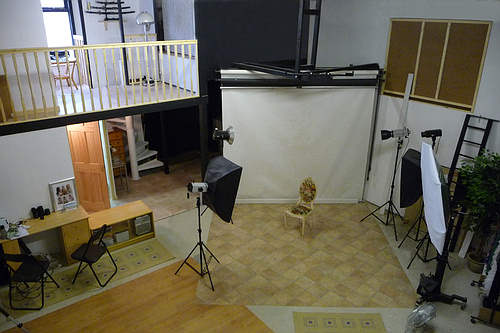 Front end of studio and mezzanine area
Studio Views (click on image for enlarged view)
Sets Props and Lighting Effects (click on image for enlarged view)
Outside Locations (click on image for enlarged view)
If you go to the 'Location' page zoom in and select 'Sat' you can view the grounds.
The areas available are Blackland Copse at the entrance, across the fields to the lake and Spinning Wood beyond.
The studio measures approximately 6.5m square x 4.2m high. The rear wall is a full width infinity cove.
To the front of the area, there is a changing room, toilet and stairway to the office and mezzanine observation / 'shooting' area above.
Entry is via a 2.4m wide x 2.4m high door providing access for large props etc.
Colorama rolls are available.
(White, Black, Red, Purple, Green, Blue, Yellow, Orange)
A muslin green screen

The lighting is Bowens, Prolite100's (4 off) Prolite82 (2off) Prolite60 (2off)
Gemini 500r (2 off) one mounted on high level track
Gemini 750Plus (High speed) 2 off

Two further bowens (a Mono400D and a Bowlite)
A Mutibliz Profilite with honeycomb, for use as a hair/backlight or whatever.
A Gobo projector with an assortment of glass 'slides'
Bowens Universal spot with gobos

An assortment of brollies, snoots, barn doors, honeycombs/grids, coloured gels and halogen lights for video work are also available.
An Exan Turbo 1000 Wind Tunnel (with remote control)
Two 8' x 4' black/white polystyrene bounces
A 105 x 180cm Scrim Jim with silver bounce and ¾ and 1¼ fabrics

There is a dance pole, swing, lyra, red silk and a rope which can all be quickly installed when required.
A smoke machine and bubble machine is available (£10.00 charge per session)
Click here for full inventory of Lighting, Props and Wardrobe.